Mooresville, NC, United States
Harold is a veteran Bible teacher and graduate of Southern Evangelical Seminary (SES) where he earned his Master of Arts in Apologetics. He has been a conference speaker, pulpit supply, Equipping University teacher, Sunday school teacher and TEAM member for SES. His special interests are Christian apologetics, world religions, especially Islam, and cults. Harold is employed full time for a fortune 50 company in strategic planning and teaches throughout the Southeast as often as possible. Harold and his wife Rustina are members of a new church plant, Christ Community Church in Mooresville, NC.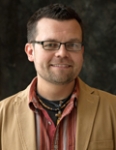 A native of North Carolina, Adam Tucker was raised in the local Southern Baptist church and accepted Christ his freshman year of high school. After earning his BA in Journalism and Mass Communication from UNC-Chapel Hill in 2000, Adam worked for several years in the secular marketplace as a graphic designer. With growing passions to pursue answers to his own questions and become more involved in ministry, he enrolled in the external studies program at Southern Evangelical Seminary in 2007. Adam is currently working towards his MA in both apologetics and philosophy. While still working as a freelance graphic designer, he also serves as a Mission Service Corp missionary with Pleasant Garden Baptist Church. He is both a Certified Apologetics Instructor and an Interfaith Evangelism Specialist with the North American Mission Board, and serves as the campus director for the UNC Greensboro chapter of Ratio Christi. His goals are to, one, equip the saints to think and take the blindfolds off their faith, and two, help unbelievers, regardless of their worldview, understand the truthfulness of Christianity and why it alone is trustworthy and worth believing.