Dr. Frank Turek
President & Author
Jorge Gil
Executive Director
Diego Fallas
Assistant Director
Diego Fallas earned his bachelor's degree in mechanical engineering. During his studies, he became passionate about Christian apologetics. He quickly found himself immersed in the field as he started taking seminary courses in apologetics and became a Reasonable Faith chapter director. Today, he is the Assistant Director for CrossExamined.org, and teaches and speaks in Latin America. Diego is the co-host of the weekly Livestream show Piensalo Bien and is currently completing his M.A. in philosophy from Southern Evangelical Seminary.
Phoenix Hayes
Marketing Director
Phoenix was born and raised in New Zealand's North Island where she completed her B.A. at the University of Waikato and her post-graduate studies in Film & Television at the University of Auckland. Today she works as the Marketing Director for CrossExamined.org where she gets to combine her love of Christian apologetics, digital communication, speaking, and teaching. Phoenix is a regular writer for the CrossExamined.org blog and is currently completing her M.A. in Christian Apologetics at Southern Evangelical Seminary.
Heath Maki
Event Coordinator
Heath grew up in the beautiful North Carolina mountains where she graduated from Appalachian State University. Heath has an extensive background in ministry. She loves getting to know people and learning how their stories make them who they are. She is passionate about seeing people find freedom as they walk with Christ and in community with others.
Karen Schaefer
Bookkeeper & Administrator
Karen Schaefer was born and raised in Wisconsin, earning her B.A. in English from the University of Wisconsin-Stevens Point. She taught high school English in both Wisconsin and North Carolina. While in Charlotte, she earned an M.A in Religion from Southern Evangelical Seminary. Karen joined the CrossExamined.org team in 2008 where her background in English and apologetics are regularly utilized. Karen was blessed to use her professional training and education during the nine years she homeschooled her son. Today Karen works as CrossExamined.org's Bookkeeper and Donor Relations Administrator.
Keith Carter
Motion Graphic Designer
Keith Carter is a Native American of Coharie descent. He studied at East Carolina University and graduated with a Bachelor of Fine Arts in painting and drawing. Upon graduation, Keith began his career with The Raleigh News & Observer. Since then, his work has appeared in such publications as USA Weekend, The Washington Post, National Geographic, and USA Today. As a motion graphic designer, Keith has worked with diverse clientele such as the Smithsonian, Disney, NFL, PBS, and Lucasfilms and is the Emmy Award-winning creator of Savingsman for ABC. Today Keith shares his amazing talents at CrossExamined.org as their motion graphic designer.
Maria Andreina Cerrada
Social Media Strategist
Maria Andreina Cerrada has a B.A. in Social Communications with a major in journalism. She is passionate about communicating the truth of the gospel of Jesus Christ to others. Her combined love of apologetics and journalism comes out when sharing content on different social and cultural issues online. Maria has been working as Cross Examined's Social Media Strategist since 2018 on both their English and Spanish platforms. She is also the host and producer of the Café Sin Relativismos Podcast.
Andrea Diaz
Graphic Designer
Andrea Díaz Is a Graphic Designer and Branding Specialist who worked in marketing and social media for a variety of companies until she decided to pursue her calling to use her creative talents to serve Christ. After learning theology and apologetics, she found passion in spreading the Gospel through art and design while also equipping other Christians to defend their faith and engage with the secular culture in a more creative way.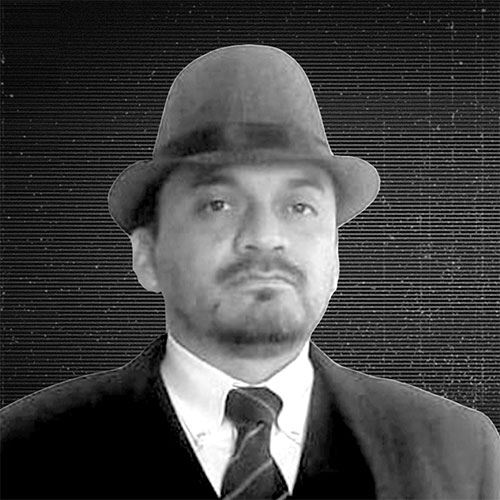 Jairo Izquierdo
Video Editor
Jairo Izquierdo's keen interest in philosophy and apologetics brought him to Cross Examined in 2018 where he does video editing, assists the social media team, and creates content that focuses on philosophy and apologetics for CrossExamined.org's Spanish platforms. Jairo is an avid student and spends his spare time answering questions about God and philosophy on his Twitch channel.
ALISA CHILDERS
JON MCCRAY
MELISSA DOUGHERTY