God has commanded us as women not only to share that we believe in Jesus Christ but also the reasons why. Here are some evidences in scripture that God has called women to learn and share the evidential reasons for believing in Christianity, which is the ministry of apologetics. Think of the five R's: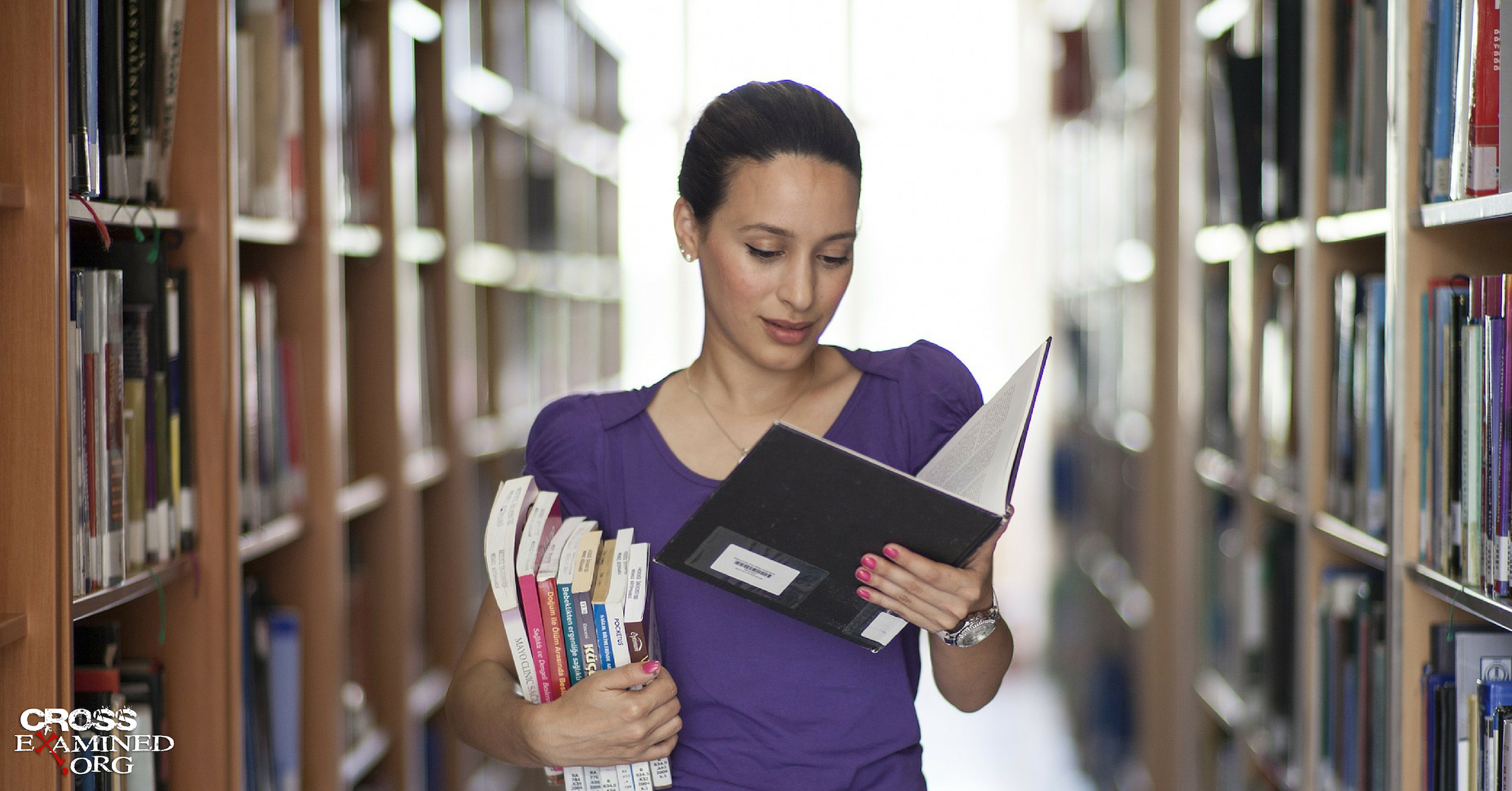 1. We as women are created as rational beings who are called to love the Lord our God not only with our hearts, but also our souls, and minds (Matthew 22:37). Our trust in Christ is grounded not in blind emotion, but in an intellectual appraisal of evidence that has convinced us of the truth of Christianity and given rise to a reasonable faith. Luke 10:38-42 records Christ's visit to the home of two women named Mary and Martha. When Martha complained that Mary was a slacker for not helping prepare the meal, Jesus praised Mary for listening to his teaching. Though he likely appreciated Martha's efforts in the kitchen, we can reasonably infer that he affirmed Mary's intellectual curiosity and commitment to pursuit of truth.
2. We as women are relational beings who are called to love our neighbors as ourselves (Matthew 22:39). Our neighbors include people in our spheres of influence, starting with immediate family members. For instance, God urges us to love and respect our husbands (see Ephesians 5). How can apologetics strengthen our marriage? If our husband is a believer, we can affirm the truths to build his faith as well as our own, and help him when he struggles with doubts. What about those of us who are married to unbelieving husbands? When we learn the evidence for our faith, even if our husband is hostile to Christian claims, we can love him while not being shaken in our own faith. We don't use knowledge as a weapon against him. Instead, we are freed from defensiveness to practice 1 Peter 3:1-4, seeking to live out before our husband a life transformed by Christ so that he "may be won by [her] conduct." Former atheist and author of The Case for Christ Lee Strobel said his wife became a believer, and the change in the way she treated him and the children was so appealing that he embarked on his own search and eventually trusted Christ.
Another relationship in which apologetics can be helpful is with our children. Titus 2: 5 describes women as "keepers" at home who teach their children. "Keeping" implies watching over or guarding. Apologetics knowledge equips us to watch over and influence our children's worldviews. Before we can guard our children's worldviews, we must first learn what a worldview is, the evidence that affirms the truth of the Christian worldview, the assertions of other worldviews, and how to respond to those assertions to show that  Christianity makes the most sense. That's apologetics. Then, when our child comes home from school saying her friend is a Hindu, for instance, we can answer when she asks why Hindus have shrines in their homes and Christians don't.
Our relationships with other women can also become redemptive and edifying, as we seek to introduce unbelieving friends to Christ and to mentor younger women in the faith to mature in their relationship with Christ. Titus 3:2-5 asks us as maturing women to be "teachers of good things" (NKJV) to women coming along behind us. We can't opt out of this call. Younger women desperately need us to take them under our wings and encourage them to live for Christ in a culture becoming increasingly hostile to Christianity. Finally, women are uniquely equipped to engage unbelieving women in faith conversations. For some groups of women, our willingness to engage them is their only hope for hearing about Christ in an understandable way. For example, only Christian women can reach Muslim women who are not comfortable talking to men.
3. We as women are responsible to bear witness of what we have seen and heard regarding Christ's identity and resurrection, and the numerous evidences for Christianity God has instilled within the created order. According to Mark 16:1-11, women first witnessed the empty tomb and were instructed to go tell others. If Jesus entrusted women with the responsibility for speaking the truth about the single most pivotal event in human history, then we, too, can bear witness. And we can share not only our personal experience with Jesus Christ as the women at the tomb did, but also the historical, scientific, and philosophical evidence provided for us by our loving God. In so doing, we as women fulfill his command to make disciples of all nations (Matthew 28:19-20).
4. We as women are called to be ready to give cogent reasons for our beliefs, even if we must suffer to do so. 1 Peter 3:15-17, a banner scripture for apologetics, tells us to "always be ready to give a defense to everyone who asks you a reason for the hope that is in you, with meekness and fear; having a good conscience, that when they defame you as evildoers, those who revile your good conduct in Christ may be ashamed. For it is better, if it is the will of God, to suffer for doing good than for doing evil" (NKJV). It is interesting that in the first seven verses of 1 Peter 3 he addresses first husbands and then wives. Then, in verse eight, which culminates in the command of verses 15-17, Peter says, "Finally, all of you," including both men and women in his subsequent appeal. So, both men and women are called and honored to participate in Christ's suffering in defense of the faith.
5. Finally, we as Christian women are to be renewed in the spirit of our minds (Ephesians 4:11-24). We do not have to remain babies in Christ, not understanding the basics of our faith, and being easily swayed. A friend once told me after reading The DaVinci Code that she wished she had never read it because it caused her to doubt. When we fail to renew the spirit of our minds with truth, we are tossed about with every new doctrine that arrives on the scene. Apologetics knowledge grounds our beliefs in strong evidence and makes our faith in Christ the most reasonable response to a God who has saturated the universe with witnesses to his presence and character.
So, when someone asks us why we think God wants women to do apologetics, we can share the five R's. We can explain that God made women rational and relational beings, endowed us as responsible bearers of the truth, and provided the knowledge with which to ready ourselves and be renewed in our minds so that we share the overwhelming evidence that Christianity is true.
Facebook Comments