If you read my "About Me" page, you'll see that my mission as a mom is to raise my kids in a home where faith means more than going to church on Sunday.  Indeed, that is the whole purpose of this blog – to help inspire others to think deeply about what that means for their own families and to pursue the same mission.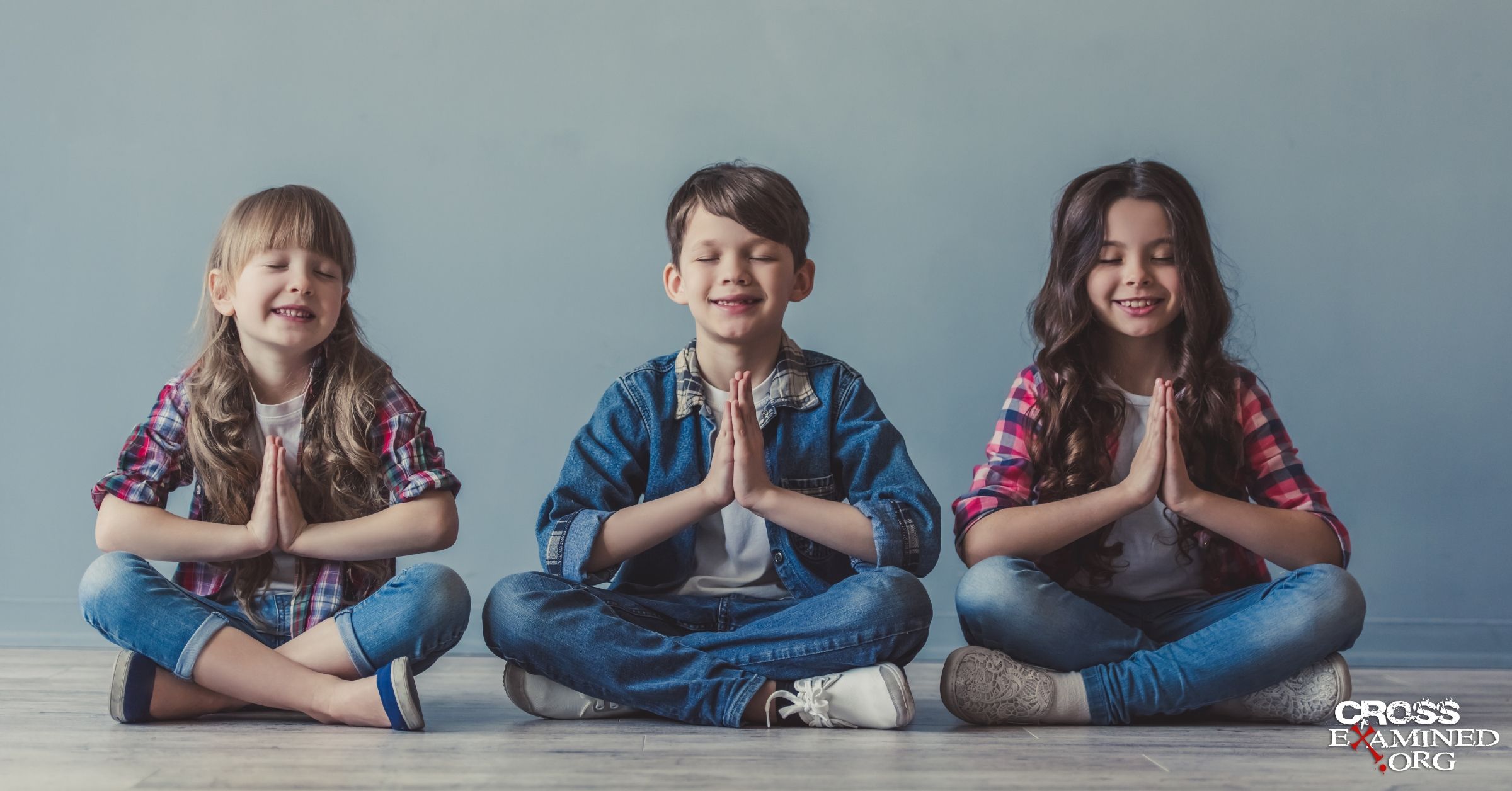 I proactively seek to apply faith every single day for my kids, to surround their hearts and minds with God. But in doing so, I sometimes have wondered:  Am I building a Christian bubble around my kids? And if so, is that good or bad?
For clarity, let me define what I mean by "bubble."  I've long held a negative (and unfortunately judgmental) view of Christians whose faith encompasses them so much that they've seemingly lost perspective on the world around them and can no longer relate to non-believers in a "normal" way. Faith seems to be the ONLY thing they think about.
"What are you doing for lunch today, Sarah?"
Sarah (in my perceived Christian bubble): "Well, Lord willing I'll go to McDonald's. If it's God's will, I'll find a parking space. But you never know because it's God's plan, not mine! See you soon. God bless you."
Of course, that's an over characterization, but you get the point. I've been reflecting on this and have deconstructed my bubble concerns into two key elements: Bubble Visibility and Bubble Durability.
BUBBLE VISIBILITY: Can others see IN, and can you see OUT?
When I was about 8, we lived across the street from a pastor's family. They had two girls, ages 5 and 3. We were playing one day when the 5-year-old suddenly asked if I had the Holy Spirit. I didn't know what that meant at the time and responded, "I don't know, but I'm saved." That was the last time her mom let me play with her.
She was in a Christian bubble where no one else was allowed to see IN. This is not Biblical. Jesus calls us to let our light shine for the world to see. If we are in a bubble where we hide ourselves away such that non-believers cannot see us, we are ignoring our explicit calling. (Matthew 5:16)
When I was about 10, I invited my best friend to church. It was Bible trivia night. (Horrible night to bring a friend, right?) My friend had never been to church in her life. She got the question, "What is the first book of the Bible?" She had no idea. I remember being absolutely floored that anyone would not know the answer to that question. I asked her afterward, "Did you REALLY not know the first book of the Bible? EVERYONE KNOWS THAT." She never came back to church again, and we drifted apart. I still wonder if that was her only church experience.
I was in a Christian bubble where I was unable to see OUT. I didn't have perspective on the lives of others without the same faith experience, and therefore could not relate to my friend appropriately. This is like the Pharisees (the religious elite of Jesus' time) who spent so much time focusing on their own religious laws that they missed the entire heart of Jesus' message on loving and relating to others. (e.g., Matthew 9:11)
BUBBLE DURABILITY: How protected are you spiritually?
In college and for several years after, being a Christian was more of a "hat" I wore; it was an "extension" of myself. There was me, and there was my belief system attached to me. It never "got in the way" of life or of non-Christian friendships. There was no bubble at all. That doesn't even mean I was taking off my Christian hat. If anyone ever asked, I would have proudly said I was a Christian. But it's amazing how many non-Biblical things you can do while wearing something as inconsequential as a Christian "hat." I certainly found it easy to wear that hat through all the parties I went to.
When you don't have any Christian bubble– when you aren't surrounding yourself daily by faith application – you are not protecting yourself spiritually, and you are at great risk for sin to dominate your life. John 15:18 says Christians "do not belong to the world." We need to have a durable faith-based bubble to understand how to set ourselves apart as we are called.
Finding my current church about 8 years ago profoundly changed me because I was exposed to Biblically sound theology for the first time in several years. This shifted my belief system into true faith that started to transform my heart. A Christian bubble started to emerge as I spent more time in prayer and Bible study.
A bubble now existed, but it was still fragile. Non-believers could easily deflate me with questions I didn't have good answers for.
My faith has grown a great deal in the last year, in large part (if not entirely) due to the conscious decision to raise my kids in a home where faith is applied every day.  In proactively seeking to make faith a part of everyday life for my kids, my identity has become wholly Christian in a way it never had been.
My bubble, crafted with daily faith application, is now durable. This bubble is indeed Biblical, necessary, AND prescribed for all Christians! What I call a bubble, the Bible calls armor:
(Ephesians 6:10-17) "…Therefore put on the full armor of God, so that when the day of evil comes, you may be able to stand your ground… Stand firm then, with the belt of truth buckled round your waist, with the breastplate of righteousness in place, and with your feet fitted with the readiness that comes from the gospel of peace… take up the shield of faith, with which you can extinguish all the flaming arrows of the evil one. Take the helmet of salvation and the sword of the Spirit, which is the word of God."
THE RIGHT KIND OF CHRISTIAN BUBBLE
Reflecting on this breakdown of visibility and durability, I realized that the negative connotations I held about Christian bubbles were around visibility issues. Indeed, as Christian parents, we have to be concerned with making sure that the bubbles we build around our kids don't obstruct their view out or others' view in. But we should never fear building a durable, spiritually protective bubble around them. If we don't, they will not be prepared to engage in the spiritual battle of life.
It's your choice daily – are you giving your kids Christian armor or a Christian hat?
---
Natasha Crain is a blogger, author, and national speaker who is passionate about equipping Christian parents to raise their kids with an understanding of how to make a case for and defend their faith in an increasingly secular world. She is the author of two apologetics books for parents: Talking with Your Kids about God (2017) and Keeping Your Kids on God's Side (2016). Natasha has an MBA in marketing and statistics from UCLA and a certificate in Christian apologetics from Biola University. A former marketing executive and adjunct professor, she lives in Southern California with her husband and three children.
Original Blog Source: http://bit.ly/2xaWvO5
Facebook Comments