Years ago, on a trip to Washington DC I found myself going through a few different airports and learning a life lesson along the way. The flights led me through several security checks. I had no problem with the baggage scans and the metal detectors till I got to LaGuardia airport in New York. I was stopped. I had forgotten about a small pocketknife on my key-chain. Not being a terrorist, or John Wick, I don't think of a one-inch blade as a weapon. My pocketknife was confiscated. It was no big loss, but it was enough to teach me something. One airport let that pocketknife slip by unnoticed. But in New York they spotted it instantly. In New York they knew the threat of terrorism. Their sensitivities were keen, their awareness raised. They knew that a few box cutters can be used to highjack a plane and kill thousands. I miss my little pocketknife. But I'm glad that the airport security was as tight as it was. New York is safer because of it, and so is America.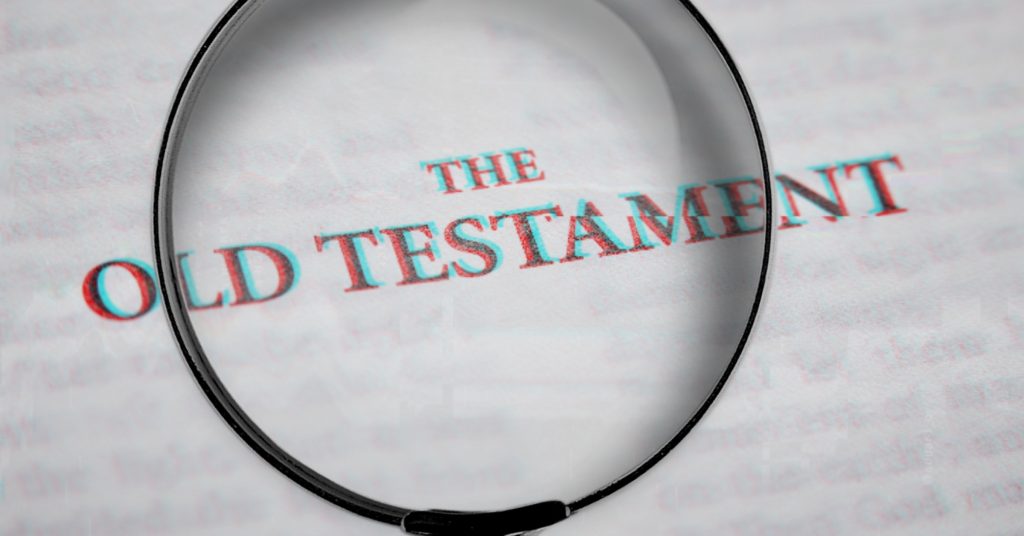 What was the difference between those airports? They all knew that terrorism still happens, and plane crashes are a real threat. They all had undergone the same security regulations training. They all had to adopt heightened security standards since 9/11. They were all big enough airports, seeing thousands of passengers every day. But in New York they took their job a little bit more seriously. They had to. The danger was not only real, but obvious, and – since this pocket-knife incident was around 2002 – 9/11 was still a fresh memory, painted in somber living colors of gray dust and red blood.
In the Christian church how often do we allow dangerous elements to slip under our radar? What bad interpretations of the Bible have we adopted because we did not let their imminent threat rouse us to action? As tragic a disaster as 9/11 was, more hangs in the balance when it comes to Biblical interpretation. Here eternal souls are at stake. Here whole denominations are tottering. Here is where God's voice is most clearly heard. But, in spite of the gravity of this issue, God's Word is still constantly mishandled, even among well-meaning Christians. Let's look at a few examples. As you'll see, Biblical apologetics is not just for counteracting cults. It's useful for some church house-cleaning too.
The Danger with Prooftexts
Correctly interpreting the Bible is an exercise in humility. We should approach the Bible, with the humble posture of a teachable student, willing to learn, and wanting to hear what God has to say. It doesn't matter what we would prefer to hear. God's message is the reference point, and that's what we're trying to reach. Sometimes, however, people pull a single verse or passage out of context, to make it "mean" something it probably doesn't mean. That's called "prooftexting." Any verse or passage used that way is called a "prooftext." Sometimes people resort to prooftexting on accident. But other times, people use prooftexts to put words in God's mouth, to make God say something He never said. When God's words are taken out of context, they can be distorted to say most anything. That's the danger of prooftexting.
We're going to look at a few prooftexts from the Old Testament. Then in Part 2 of this series, we'll look at prooftexts from the New Testament. Finally, in part 3, we'll offer guidance to correct against prooftexting errors. I encourage you to look these passages up in their original context and read the surrounding verses. See if you can identify what the verse more likely means and how people might miss that target.
1 Chronicles 4:9-10[1]
"Now Jabez was more honorable than his brothers, and his mother called his name Jabez, saying, 'Because I bore [him] in pain.' 10 And Jabez called on the God of Israel saying, 'Oh, that You would bless me indeed, and enlarge my territory, that Your hand would be with me, and that You would keep [me] from evil, that I may not cause pain!' So God granted him what he requested."
Perhaps you read the book, The Prayer of Jabez. It was popular a few years ago, and it's resurfaced now and again. The book was easy to read, simple, and seemed to offer a straight-forward method for lining one's life up with God's blessing. It wasn't quite "health and wealth" theology, but it was close enough that a lot of people liked it for the same reasons. Stepping back a bit, we can see that, first, the story is descriptive, not prescriptive. In other words, the story describes what did happen not necessarily what should happen, especially in our day and age.
Second, the passage is much too brief an interjection to support the volumes of theologizing that have been put upon it. If the passage was enriched by a greater historical or circumstantial context or perhaps prescriptive in nature, then more could be said of it. But as it stands, there are only two verses in Scripture which deal with Jabez (1 Chron. 4:9, 10) and one verse that mentions a city by that name (1 Chron. 2:55).[2] That's not a lot to work with.
Third, the common interpretation that Jabez's prayer is somehow special in its profound insights on blessing is undermined by the facts that Jabez could equally have been blessed for his being "honorable" or for his being an otherwise cursed person under a name that means "pain", for God has always had a heart for the "nobodies" and the "underdogs."[3] The prayer may have been mentioned to demonstrate how God blessed Jabez in spite of his words rather than because of them.
Fourth, perhaps the most troubling thing about the way this passage has been handled is that it's used as a magic formula, as if there are magic prayers that unlock God's stored up blessings. The text makes no suggestion that this prayer is prescriptive nor that it mechanically brings about the desired effect. Prayer for Jabez works just as it does for us. Prayer is a relational activity that should be God-centered and the results are guaranteed only to fit what God wants, whether or not people agree.[4]
Psalm 118:24
"This [is] the day [which] the LORD hath made; we will rejoice and be glad in it."
The passage is often cited as a reminder that God makes every day and we should be glad about this fact. One might hear this verse quoted, perhaps in hymn form or in a prayer, bright and early Sunday morning as a commencement for the day's worship service. But this verse is not referring to just any day, but one day in particular. If we examine the larger passage we can find another memorable line in verse twenty-two, "The stone [which] the builders refused is become the head [stone] of the corner." This memorable verse would be repeated by the Apostle Peter hundreds of years later in 1 Peter 2:7 with specific reference to the ministry and work of Christ as a foundation for the building of the church. Furthermore, Psalm 118:22 suggests that this "day" refers to the day of salvation, and indeed the larger context of Psalm 118 agrees with this interpretation.[5] The Psalmist is celebrating God's work of salvation and, in verse twenty-four, the particular day in which it occurs. This is the day of salvation, the LORD has brought about salvation, and that's cause for rejoicing.
Proverbs 29:18
"Where [there is] no vision, the people perish: but he that keepeth the law, happy [is] he."
The word hazon interpreted as "vision" is often misunderstood to mean a "vision" in the sense of goal-setting, vision statements, and strategic planning in the corporate world. That is, people need to have a clear "vision" of their goal so they are inspired to work harder, work together, overcome obstacles, and achieve that goal. Whatever truth there is to that sense of "vision" that's not what this verse is about. Nevertheless, in church settings the idea is usually that chaos erupts when the church does not have a set ministry plan, a singular vision of ministry agreed upon by the head pastor, church leaders, or the denomination.
I'm not trying to dismiss the value of goal-setting and clear vision statements for your church or business, but that's just not what this verse is about. The word here is hazon, and it refers to divine communication to prophets.[6] In context, the "vision" here is about divine revelation through a prophet, namely, God's revealed law (Scripture). This sense fits best with parallel structure of the verse.[7] The first line tells of perishing for lack of vision.[8] But the second line of the verse explains the object of this vision – what are they looking at with their "vision. It says, "But he that keepeth the law, happy is he." This vision refers to seeing God's law, specifically God's standard as revealed through the prophets. And for those who do not have the law, they can't keep the law, they don't benefit from it, and they suffer and perish without it.
Isaiah 53:5
"But He [was] wounded for our transgressions, [He] [was] bruised for our iniquities; The chastisement for our peace [was] upon Him, And by His stripes we are healed."
This verse, or at least the last line of it, "by His stripes we are healed," is often quoted in reference to physical healing from diseases and disorders. This passage, however, is talking about eternal salvation. Usually the common error in cases like this is to flatten out one's soteriology (theology of salvation) reading eternity into every earthly deliverance. But here the opposite is done. Isaiah 53 is one of the clearest Messianic and soteriological passages in Scripture. The nature of Christ's eternally redemptive work is explained in this prophecy. To reduce this passage to physical healing is to say that Christ died on the cross so you wouldn't have lower back pain. Or Christ rose from the grave to deliver you from migraines. But the whole thrust of this passage is that the Messiah is not simply assuming the pains and sufferings of the world on her behalf; He is bearing the load of her sin-punishment. In summary, the thrust of this entire chapter is that Christ dies a substitutionary death for the atonement and spiritual redemption of men. To be fair, Jesus does heal people – that was a major part of his earthly ministry. But full and final healing isn't guaranteed for all believers until heaven. That completed sense of healing is still in view here, as Christ isn't just delivering people from the wages of sin (justification), and from slavery to sin (sanctification), but also delivering believers ultimately from the presence of sin through glorification in heaven. Isaiah 53:5 does not however guarantee that Christians will be, in this life, physically healed by Christ's suffering. Were a person to make an argument from Scripture for physical healings today, he would do better finding his support elsewhere.
Stay tuned for Parts 2 and 3 in this series!
Endnotes
[1] Since many misinterpretations have ties to the KJV, or at least were first proliferated under the KJV-popular era, all Scripture verses are from the KJV unless otherwise noted.
[2] James Strong, Strong's Exhaustive Concordance of the Bible (Lynchburg, VA: Old Time Gospel Hour, 1890, reprint ed. N.D.), 534.
[3] This point hardly needs defense. Nonetheless for God's Word as it concerns the care of the poor, destitute, and otherwise "lowly" see: Ex 22:25-27; 23:11; Le 19:9, 10; 23:22; 25:25-28, 35-37, 39-43; De 14:28, 29; 15:2-14; 24:12-21; 26:12, 13; 1Sa 2:7; Ne 8:10; Job 5:15, 16; 31:15; 34:18, 19, 28; 36:6, 15; Ps 9:18; 10:14; 12:5; 14:6; 34:6; 35:10; 37:21, 26; 41:1-3; 68:10; 69:33; 72:2, 4, 12-14; 74:21; 102:17; 107:9, 36, 41; 109:31; 112:4, 5, 9; 113:7, 8; 132:15; 140:12; 146:5, 7; Pr 22:2, 22, 23; 28:27; 29:7, 13; 31:9, 20; Ec 5:8; Isa 1:17; 11:4; 14:30, 32; 16:3,4; 25:4; 29:19; 41:17; 58:7, 10; Jer 20:13; Eze 18:7, 16, 17; Da 4:27; Zep 3:12; Zec 7:10; 11:7; Mt 5:42; 11:5; 19:21; 25:35, 36; Mr 14:7; Lu 3:11; 4:18; 6:30; 7:22; 11:41; 12:33; 14:12-14; 16:22; 18:22; 19:8; Ac 20:35; Ro 12:8, 13, 20; 1Co 13:3; 16:1,2; 2Co 6:10; 9:5-7; Ga 2:10; 6:10; Eph 4:28; 1Ti 5:9, 10, 16; Heb 13:3; Jas 1:27; 2:2-9, 15, 16; 5:4; 1Jo 3:17-19. Naves Topical Bible (No Bibliographical Data given) in Gramcord [CD ROM] (Vancouver, WA; Gramcord Institute, 1998), "Poor."
[4] The intimacy of the Psalms, which themselves tend to be as much prayers as songs, bear witness to the personal and relational nature of prayer. And it is a plain fact that prayers often go unanswered or at least answered with a "No." But God also accomplishes everything He intends to accomplish (1 Chron. 29:11-14; Ps. 104:27-30; Isa. 14:24, 26-27; 55:11). Therefore prayer is only guaranteed to bring about the desired results when those desired results align with God's plans. Furthermore, the only prayer in the New Testament era that can be argued as a formulaic prescription is the Lord's Prayer found in Matt. 6:9-13 and Luke 11:2-4. But even this appears more to be an outline rather than a formulaic prescription, for of all the prayers to be found in the rest of Scripture, nowhere else is the Lord's Prayer repeated verbatim.
[5] "Salvation" refers here both to temporal salvation (earthly deliverance) and eternal salvation. Psalm 118 is rich with imagery of God's immanence and direct earthly salvation. Indeed, temporal salvation is the predominant kind suggested in Psalm 118 but in verse nineteen the setting begins to shift saying, "Open to me the gates of righteousness: I will go into them, [and] I will praise the LORD, 20 This gate of the LORD, into which the righteous shall enter. 21 I will praise thee: for thou hast heard me, and art become my salvation." This reference to "gates of righteousness," like the "gates" in Psalm 100:4, suggest God's abode. And the Petrine interpretation of Psalm 118:22 as seen in 1 Pet. 2:7 bolsters this interpretation. Indeed the Psalmist believes God to be his savior in warfare, but also His savior unto heaven. For more on the ancient Hebrew expectations of the Kingdom of Heaven see Alva J. McClain, The Greatness of the Kingdom: An Inductive Study of the Kingdom of God (Winona, IN: BMH, 1987).
[6] Allen P. Ross notes, "The word hazon refers to divine communication to prophets (as in 1 Sam 3:1) and not to individual goals that are formed . . . . The prophetic ministry was usually in response to the calamitous periods, calling the people back to God– hazon meaning revelatory vision should be retained. If there is no revelation from God, people can expect spiritual and political anarchy" (Allen P. Ross, Proverbs in Expositor's Bible Commentary Vol. 8 [CD ROM] [Grand Rapids: Zondervan, 1997], Prov. 28:19).
[7] Parallelism is the pairing of related lines for literary affect be it emphasis, contrast, development, cause and affect, question and answer, etc. For excellent studies on Hebrew parallelism see James L. Kugel, The Idea of Biblical Poetry: Parallelism and Its History (Baltimore: Johns Hopkins Univ., 1981); and Robert Alter, The Art of Biblical Poetry.
[8] The term for "perish," para means to "let go," "unbind," or "uncover" and is variously rendered as "unrestrained" (NASB), "cast off restraint" (NIV, ASV, NKJV), or "made naked" (Young's Literal). Francis Brown, S. R. Driver and Charles A. Briggs, The Brown-Driver-Briggs Hebrew and English Lexicon: With an Appendix Containing the Biblical Aramaic, Reprint from the 1906 ed., 7th printing (Peabody, MA: Hendrickson, 2003) 828, Strongs #6544.

Recommended resources related to the topic:
Counter Culture Christian: Is the Bible True? by Frank Turek (Mp3), (Mp4), and (DVD)
The New Testament: Too Embarrassing to Be False by Frank Turek (DVD, Mp3, and Mp4)
Why We Know the New Testament Writers Told the Truth by Frank Turek (DVD, Mp3 and Mp4)
Oh, Why Didn't I Say That? Is the Bible Historically Reliable? by Dr. Frank Turek DVD, Mp4, Mp3 Download.
How to Interpret Your Bible by Dr. Frank Turek DVD Complete Series, INSTRUCTOR Study Guide, and STUDENT Study Guide
How Philosophy Can Help Your Theology by Richard Howe (MP3 Set), (mp4 Download Set), and (DVD Set)
____________________________________________________________________________________________________________________________________________________
John is a licensed minister with earned degrees from Charleston Southern (BA), Southern Evangelical Seminary (MDiv), and Southwestern Baptist Theological Seminary (ThM, PhD). His doctorate is in philosophy of religion, minoring in ethics. As a new addition to Crossexamined in 2023, John brings a wealth of experience to the team including debating atheists, preaching the Gospel, teaching apologetics in schools and churches, publishing books and articles, and creating websites. John is also a teaching fellow with Equal Rights Institute and president of Pella Pro-Life in his hometown of Pella, Iowa. There he resides with his lovely and brilliant wife Hillary Ferrer, founder of Mama Bear Apologetics. Together they specialize in cultural apologetics with an emphasis on family-based apologetic training.
Originally posted at: https://bit.ly/3r0C5qp
Facebook Comments