by Melissa Dougherty
Many believe that all humans are born children of God. Is this true? I want to examine the Bible's words about this beautiful theological truth.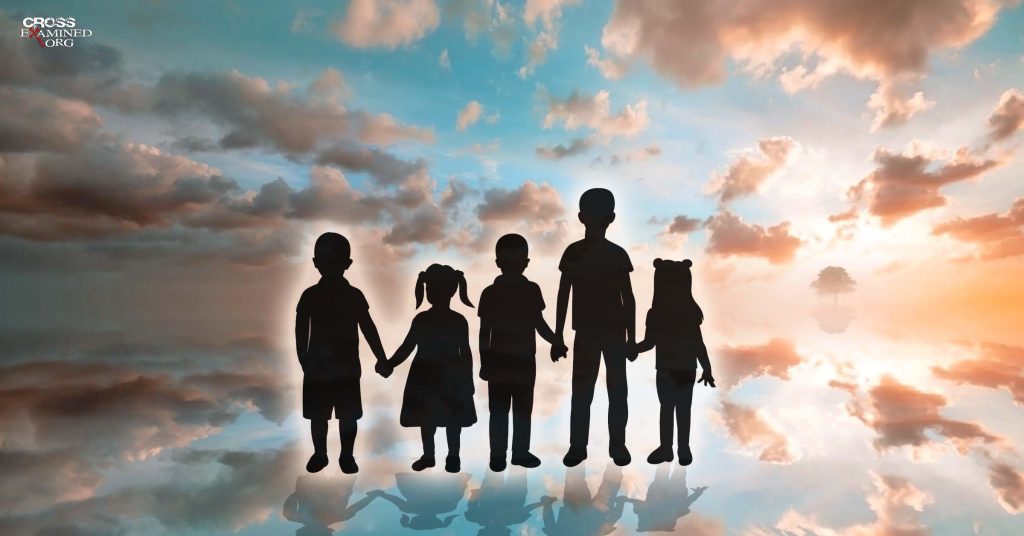 Spoiler alert- It's true. According to the Bible, we're not born children of God. The belief that we're all children of God is never taught in the Bible and has caused a lot of bad theology. Scripture teaches that though we are all created by God, we become children of God through spiritual adoption. However, we are all born in the image of God. All humans have worth, are creations of God, and He loves us. It's because He loves us that He became His own creation to save us and redeem us. This is precisely why Jesus had to come in the first place. If we're all already children of God, Jesus didn't have to die to redeem or adopt us. What is He redeeming or adopting us from? This is the verbiage that the Bible regularly uses when speaking about Jesus' death: He "redeemed" us, we were "slaves" to sin, and we are "adopted" into His family.
I want to elaborate on this point. There's an abundance of Scriptures about the new birth, being adopted into God's family, being a New Creation in Christ that all are explicitly clear that what we once were — slaves to sin which we are no longer as a child of God. To be born again means to be spiritually remade, from being a child of wrath to being adopted as a child of God:
John 1:12 says, "But to all who did receive him, who believed in his name, he gave the right to become children of God who were born, not of blood nor of the will of the flesh nor of the will of man, but of God.
To be born of God means to be spiritually reborn.
Romans 8:14-17: For all who are led by the Spirit of God are sons of God. 15 For you did not receive the spirit of slavery to fall back into fear, but you have received the Spirit of adoption as sons, by whom we cry, "Abba! Father!" 16 The Spirit himself bears witness with our spirit that we are children of God, 17 and if children, then heirs…
We become God's children when we are saved because we are adopted into God's family through our relationship with Jesus Christ. Galatians 4 also talks about this. In chapter 3, Paul had just explained we're all sons of God through faith in Jesus. It's our faith in Jesus that makes us His child. If we belong to Christ, then we're Abrahams's seed and, as children, are heirs. This is important because Paul emphasizes that only an heir, a son, can receive the inheritance.
He compares this to someone who's a slave to the world vs. being a child of God.
There are two categories.
At the beginning of chapter 4, he says this:
Galatians 4:1-7- I mean that the heir, as long as he is a child, is no different from a slave, though he is the owner of everything, 2  but he is under guardians and managers until the date set by his father. 3 In the same way we also, when we were children, were enslaved to the elementary principles of the world. 4 But when the fullness of time had come, God sent forth his Son, born of woman, born under the law, 5 to redeem those who were under the law, so that we might receive adoption as sons. 6 And because you are sons, God has sent the Spirit of his Son into our hearts, crying, "Abba! Father!" 7 So you are no longer a slave, but a son, and if a son, then an heir through God.
This is amazing. God's promise to Abraham is our inheritance. We were slaves to the "elementary principles" of the world. In vs. 5, Paul says that Jesus bought our freedom, as we were slaves to the law and the world! He adopts us.
This is explained further in John chapter 3, where Jesus says he doesn't come to condemn the world but to save the world, but people loved the darkness instead of the light. Now everyone is familiar with John 3:16, so let's start there:
John 3:16-"For God so loved the world, that he gave his only Son, that whoever believes in him should not perish but have eternal life." 
 Let's keep reading, though, because everyone likes to just stop there.
17 For God did not send his Son into the world to condemn the world, but in order that the world might be saved through him. 18 Whoever believes in him is not condemned, but whoever does not believe is condemned already, because he has not believed in the name of the only Son of God. 19 And this is the judgment: the light has come into the world, and people loved the darkness rather than the light because their works were evil. 20 For everyone who does wicked things hates the light and does not come to the light, lest his works should be exposed. 21 But whoever does what is true comes to the light, so that it may be clearly seen that his works have been carried out in God."
This is important: people don't understand that according to this, the world is already condemned. People typically have it backward. They believe God condemns us, but that's not what John 3 says. Sin is what condemns us. Since we are born into condemnation, we must be saved from that.
If we're adopted into God's family through Jesus, you have to wonder who or what we're adopted from if God isn't already our Father. How would we be adopted into God's family if we're already a part of it? To whom does the world belong? Who's our father?
In John 8 and 1 John, the Bible describes our father as the devil. This is why we must be "born again" because we're born into condemnation as children of the devil.
We have the wrong Dad!
Galatians 3:22-25 says:
"but the Scripture declares that the whole world is a prisoner of sin, so that what was promised, being given through faith in Jesus Christ, might be given to those who believe. Before this faith came, we were held prisoner by the law, locked up and tell Faith should be revealed. So the law was put in charge to lead us to Christ that we might be justified by faith."
First John 3:10 explains this even more that there's a dualistic view of this. If we're not children of God, then we're by default children of the devil:
1 John 3:10- 10 By this it is evident who are the children of God, and who are the children of the devil: whoever does not practice righteousness is not of God, nor is the one who does not love his brother.
Jesus calls the Pharisees children of the devil in John 8. Here the Pharisees are in a tongue-lashing match with Jesus, and they say that they are heirs of Abraham. Jesus puts them in their place when it comes to this claim:
John 8:39-45- 39 They answered him, "Abraham is our father." Jesus said to them, "If you were Abraham's children, you would be doing the works Abraham did… 41 You are doing the works your father did." They said to him, "We were not born of sexual immorality. We have one Father—even God." 42 Jesus said to them,"If God were your Father, you would love me, for I came from God and I am here. I came not of my own accord, but he sent me. 43 Why do you not understand what I say? It is because you cannot bear to hear my word. 44 You are of your father the devil, and your will is to do your father's desires. 
Just like we're not literally "born" again, which is what Nicodemus was asking, we're also not literally "born" as the children of the devil. It's spiritual slavery and spiritual rebirth. If you're a child of God, it means you've experienced the spiritual new birth, are born again, and are saved.
Recommended resources related to the topic:
Jesus, You and the Essentials of Christianity by Frank Turek (INSTRUCTOR Study Guide), (STUDENT Study Guide), and (DVD)     
Stealing From God by Dr. Frank Turek (Book, 10-Part DVD Set, STUDENT Study Guide, TEACHER Study Guide) 
_____________________________________________________________________________________________________________________________________________________
Melissa Dougherty is a Christian Apologist best known for her YouTube channel as an ex-new ager. She has two associate's degrees, one in Early Childhood Multicultural Education, and the other in Liberal Arts. She is currently pursuing her bachelor's degree in Religious Studies at Southern Evangelical Seminary.
Facebook Comments