Monday, July 29, 2019
Legado del apologista Norman Geisler, quien 'no tenía la fe suficiente para ser un ateo'
El magistral teólogo deja tras sí casi 130 títulos y un impacto mundial.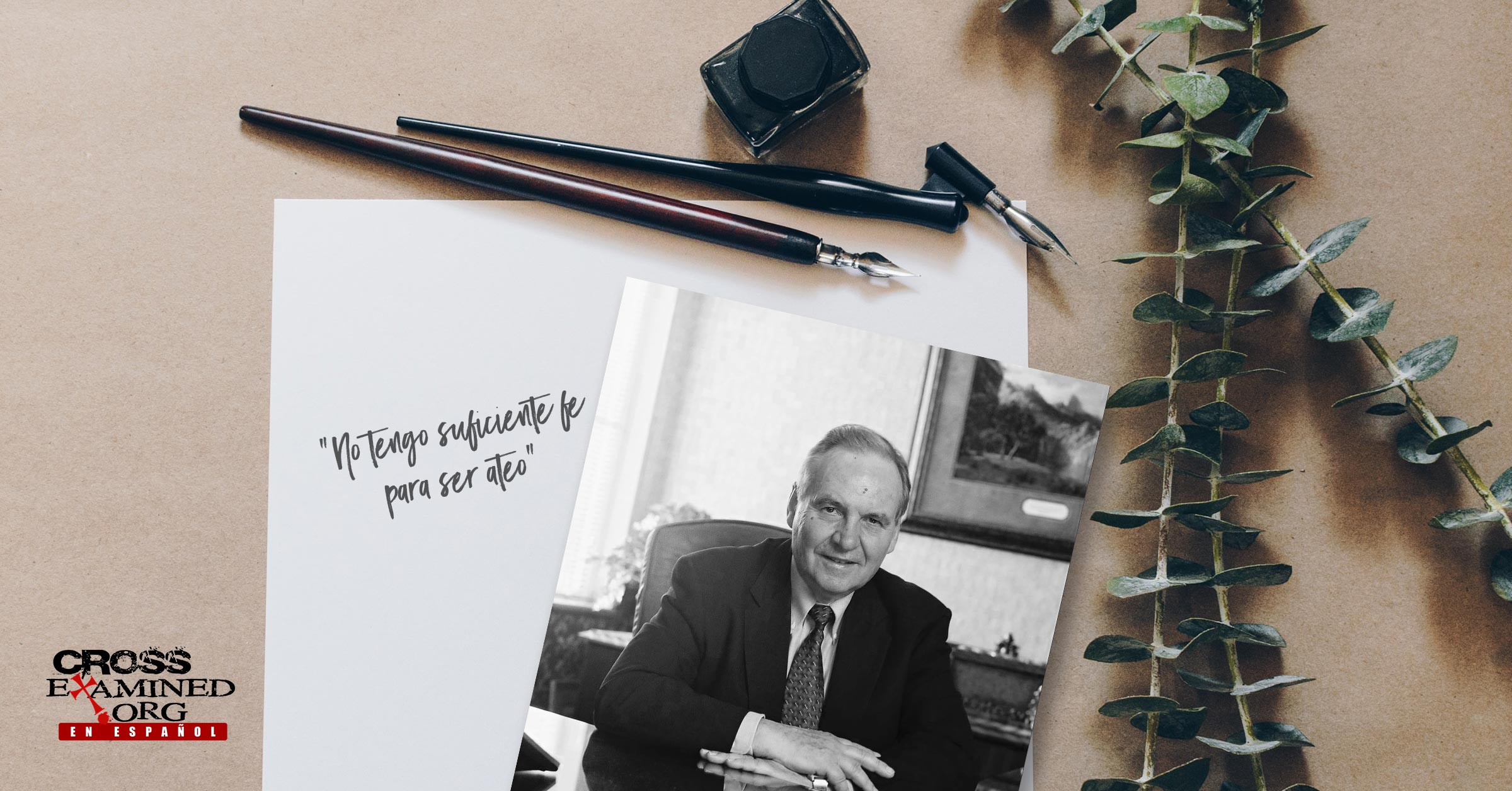 Solo dos meses después de haberse retirado del ministerio público, el teólogo evangélico Norman Geisler falleció el lunes a la edad de 86 años. Había sido hospitalizado durante el fin de semana después de sufrir un accidente cerebrovascular.
Descrito como "una mezcla entre Tomás de Aquino y Billy Graham", Geisler fue un escritor prolífico, apologista y profesor, además de ser el cofundador y expresidente del Seminario Evangélico del Sur (SES, por sus siglas en inglés) en Carolina del Norte y el cofundador de la Universidad Internacional Veritas en California.
Muchos líderes evangélicos consideran a Geisler uno de los pensadores cristianos más importantes de las últimas décadas, entre ellos el pastor Derwin Gray, quien lo consideraba "uno de los más grandes filósofos, apologistas y teólogos cristianos" y el presidente de Colson Center, John Stonestreet, quien lo recuerda como "una figura sobresaliente de la apologética y la filosofía cristiana".
Geisler fue respetado debido a la amplitud y la profundidad de su carrera de más de 70 años y por su modelo de defensa de la fe y de la Biblia por medio de la apologética clásica.
"Cuando Geisler comenzó, había pocos filósofos que abrazaran la fe cristiana. Pero resultaba aún más raro encontrar a un filósofo capacitado que estuviera comprometido a ayudar a los creyentes comunes en la defensa del evangelio", dijo Gregory E. Ganssle, profesor de filosofía de la Escuela de Teología Talbot de la Universidad de Biola. "Geisler preparó el camino para la apologética sofisticada que hoy disfrutamos", al combinar el rigor académico con el deseo de capacitar a la iglesia y de escribir libros que "pudieran ser leídos y utilizados por los creyentes de todas las condiciones sociales".
El presidente actual de la SES, Richard Land, lo describió como una voz potente y refrescante que inspiraba a los eruditos conservadores, a los ministros y a los colegas apologistas.
"Para nosotros, la más reciente defensa de la fe realizada por el Dr. Geisler fue como un largo trago de agua fría en medio de lo que a menudo era un paisaje teológico árido y estéril", escribió Land. "El Dr. Geisler ha sido la autoridad a quien acudir para más de dos generaciones de estudiantes del seminario evangélico que buscaban una defensa firme, inteligente e implacable de la inerrante e infalible Palabra de Dios y de las doctrinas históricas de la fe cristiana".
Él formó parte del equipo de teólogos que escribió la Declaración de Chicago sobre la Inerrancia Bíblica en 1978 y fue el coautor del popular libro "I Don't Have Enough Faith to Be an Atheist" (No tengo suficiente fe para ser ateo) en el 2004.
"Norman Geisler fue una de las cuatro o cinco personas de mayor influencia en mi vida. Fue conocer a Norm y leer sus obras lo que despertó mi interés en la filosofía y el resto es historia", dijo el profesor de filosofía del Seminario Talbot, J. P. Moreland a CT. "Él fue un trabajador incansable para el Reino y un hermano que fue fiel hasta el final. Hemos perdido a un gigante y el mundo estará peor por su partida".
Además de su erudición y enseñanza, Geisler participó en debates teológicos con colegas eruditos, entre ellos un debate en el 2011 con Michael Licona con respecto a la resurrección corporal de los santos, que fue cubierto por Christianity Today.
Él es el autor, coautor o editor de 127 títulos, entre ellos un libro sobre el transhumanismo, previsto para el año que viene. Su libro "The Baker Encyclopedia of Christian Apologetics" (La Enciclopedia Baker de Apologética Cristiana) fue nombrado por CT en el 2002 como uno de los libros sobre religión más importante, de entre los teólogos aún vivos.
Las obras de Geisler han sido traducidas a más de una docena de idiomas, y se han rendido homenajes en Internet por todo el mundo, desde Kenia hasta Brasil. El teólogo brasileño Roney Cozzer escribió: "A menudo, digo que Geisler fue una fuente de la cual bebí muchísimo" y alabo a Dios por su legado.
El erudito, quien nació en Michigan, recibió títulos del Wheaton College, William Tyndale College y del Loyola University.
William C. Roach, presidente de la Sociedad Internacional de Apologética (el cual Geisler fundó en 2007), fue apadrinado por Geisler y compartió lo siguiente en un homenaje:
Los dos crecimos en hogares no cristianos, nuestras madres no nos permitían jugar al fútbol cuando éramos niños, ambos tuvimos padres alcohólicos, nos esforzábamos significativamente en la escuela, y lo más importante: después de nuestra conversión a Cristo, ambos tuvimos que enfrentarnos a las objeciones en cuanto a la fe cristiana.

El Dr. Geisler solía decir que se introdujo en el mundo de la apologética porque se quedó perplejo al encontrar a un borracho en las calles de Detroit que decía ser un egresado del "Moody Instita Bibiltute". Entonces, el Dr. Geisler comprendió que tenía que encontrar respuestas a las objeciones de la gente o bien, debía dejar de compartir su fe. Puesto que lo segundo no era una opción, el Dr. Geisler dedicó su vida a defender la fe cristiana histórica.
Luego de la noticia de su fallecimiento, su ministerio publicó 1 Tesalonicenses 4:13-14, uno de sus pasajes favoritos que solía citar cuando se enteraba de la muerte de alguien del cuerpo de Cristo: "Pero no queremos, hermanos, que ignoréis acerca de los que duermen, para que no os entristezcáis como lo hacen los demás que no tienen esperanza. Porque si creemos que Jesús murió y resucitó, así también Dios traerá con El a los que durmieron en Jesús".
---
Publicado originalmente en Christianity Today: http://bit.ly/2Z0Oxnl
Traducido por Natalia Armando
Editado por María Andreina Cerrada
Free CrossExamined.org Resource
Get the first chapter of "Stealing From God: Why Atheists Need God to Make Their Case" in PDF.
Facebook Comments