Fort Worth, TX, United States
John is a part-time professor and student. His passion is for intelligent faith, that is, a profound Christian faith which is existentially relevant, intellectually compelling, demonstrably true, and altogether beautiful. John plans to teach and write full time and has preached or taught at about 45 churches and 7 schools spanning 4 countries. Apologetics, religious studies, theology, and philosophy are his areas of interest.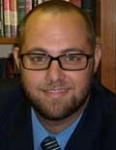 Mark is currently the Minister of Community Missions and Evangelism at Field Street Baptist Church in Cleburne, TX. He graduated from Southwestern Baptist Theological Seminary in 2003 with a Masters of Divinity, specializing in Biblical Languages. He previously served as a pastor in North Edwards, CA and was on staff at an inner-city mission in Arlington, TX. He has also been a stock broker and spent some time in the software industry. He graduated with a BA in History as well as Economics from Hardin Simmons University Abilene, TX. Mark is married and is the proud father of three young children.